THE MYSTERY OF
CHARLIE GRAVES
Ages: 8 to 15. 28,000 words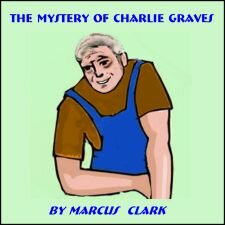 FREE DOWNLOAD HERE
(PDF Version)
912 Kb (zipped)

FREE DOWNLOAD HERE
(HTML Version)754 Kb (zipped)
THE MYSTERY OF CHARLIE GRAVES


Karen and Jodie are two 12 year-old girls about to start school holidays. Everything should be nifty, yet by the time the last day of school is over a catastrophe has happened. The police have all the answers—or so they think. But Karen's mum knows more about this disaster than anyone, and helps the girls go off and solve it by themselves.

Karen uses her intuition to help solve the mystery, but not everyone believes her. All the same, both Karen and Jodie are in for some big surprises before the end of the story.

28,000 words Ages: 8 to 15

Requires Adobe Reader, free download here.

Adobe Reader will re-open at the last
page you read if you have it set correctly.

Go to EDIT/ PREFERENCES/ STARTUP,
select RE-OPEN ALL FILES.

When you want to read the next page,
use the arrows at the bottom,
near the page number, not the scroll bar!