HOW ARE SUSPECTS TREATED AT THE DAIYO-KANGOKU?
Extracted from PRISONS IN JAPAN, produced by JAPAN FEDERATION OF BAR ASSOCIATIONS (NICHIBENREN) 1992 1-3, KASUMIGASEKI 1-CHOME CHIYODA-KU, TOKYO 100, ?JAPAN

1. SUMMARY OF THE SYSTEM

???A suspect is assigned to one of the small cells located so that police officers can look over the cell in which the suspect will spend many days and nights. (These cells are about 10 square metres in size and are inhabited by several other suspects as well). There are cells for women and juveniles. Women prisoners are, inevitably, easily leered at by adult male suspects who are imprisoned in other cells.

???A policeman in charge observes and records every movement of the suspect. Thus through the entire day, every conduct of daily life, such as getting up, washing one's face, eating meals, reading books and going to sleep, is closely monitored. Even excretion is surveyed.

2. ?STRICT CONTROL OF CONDUCT

???In addition, police department rules severely restrict personal conduct and the mode of life of the suspect. For instance, standing up and walking in a cell and talking with other prisoners is prohibited. Rules for details, such as how to sit down on rugs place on the floor and how to cover one's body with a prison blanket at bed time, have been specified and strictly enforced. Prisoners are not even allowed to freely flush the toilet which is set up in a cell corner.

3. INHUMAN ENVIRONMENT

???It is common practice in most Daiyo-Kangoku to allow baths to be taken about once a week for 10 to 15 minutes and exercise once a day for about the same time. In some of these places there are exercise areas, but they are inside the police station. The areas are very small and crowded. In actuality, such "exercise areas" are only smoking rooms.

???Communication with visitors is severely restricted. Prisoners are not allowed to make direct telephone calls, nor can they contact counsel without permission. Even interviews with counsel are often obstructed... Sending food or clothes, or buying these at their own expense are frequently hindered for various trumped-up reasons.

4. CONFESSIONS

???As stated above, a suspect's daily life at a Daiyo-Kangoku is continually monitored and restricted by police officers who have total control over prisoners. Furthermore, if a suspect does not confess, he or she is usually treated even worse. Conversely, if a confession is obtained, the suspect is accorded preferential treatment in return.


---
HOW IS A SUSPECT INTERROGATED IN THE DAIYO-KANGOKU?

1?. INTERROGATION FOR THE PURPOSE OF OBTAINING

CONFESSIONS ???The main purpose of interrogation of suspects is, practically speaking, to obtain confessions. There are no rules or regulations concerning the time of interrogation. No laws specifically restrict the manner or time of interrogations or provide rapid redress for unjust methods of conducting them. The interrogation may be conducted without limit as to time, and a variety of methods to forcibly obtain confessions are used. Although the Japanese Constitution guarantees the right to remain silent, police officers do not allow the suspect to refuse to be interrogated. The right to remain silent has, as a matter of fact, no value in face of such coercion.

???Contributing to the existence of such an interrogation system are the lack of a bail bond system and the unavailability of court-appointed lawyers prior to indictment. Since police officers dominate and control all aspects of a suspect's life in these prisons, confessions are always obtained in an unlimited manner and by coercion.

2. VARIOUS METHODS OF INTERROGATION

???There are a variety of coercive torturous ways to obtain confessions; making the suspect extremely exhausted both physically and mentally by questioning from early morning until late at night every day for a long period of time; the beating, poking and kicking of the suspect's body by several policemen at the same time; binding fingers unbearably tight; hitting the table or turning over the chair on which the suspect is sitting; making the suspect stand in a fixed position; shouting close to his ear that he has committed the crime; inducing the suspect to confess by saying that he could go home, receive items sent to him or buy things more freely or, in an exceptional case, see his spouse or friends if he confessed; tormenting the suspect by showing colour photos of the victim when the suspect is eating, or by waking him up every hour during the night.

3. CONFESSIONS EXTRACTED DUE TO COERCION

???As stated, the interrogation process uses violent or intimidating methods, to make the suspect lose his ability to make judgements. As such, it is very difficult to resist such interrogations over a long period of time.

Furthermore, there is no description of the process or situation surrounding the interrogation in any confession "statement". Until that time, even counsel is not allowed to see the suspect on the pretext that the police are in the process of questioning the suspect. Thus, the suspect, isolated and helpless, abandons hope and finally ends up making a confession.

CAN COUNSEL SEE THE SUSPECT AT ANY TIME?

1.??RESTRICTIONS DUE TO INTERROGATION

???In Japan, the Constitution guarantees the right to counsel and Article 39 of the Code of Criminal Procedure provides for the right to confer with counsel. However, Paragraph 3 of the same article authorises investigators (police and prosecutors) to restrict that right "When it is necessary for investigation".

???It is not unusual for counsel to be kept waiting for two or three days after applying for an interview with the suspect. Interviews are usually limited to about 15 minutes as a condition of grant of permission.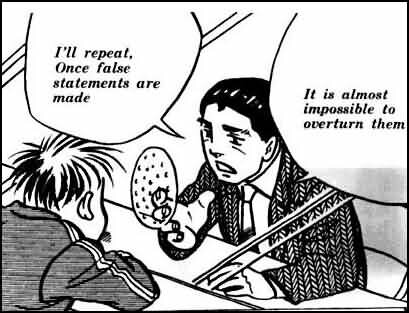 Interview with a prisoner by his counsel (they are separated by a transparent partition with numerous small holes). Copyright JFBA.

2. UNWARRANTED CUSTOMARY MANNER OF CONDUCTING INTERVIEW

???Counsel is required to report to the prosecutor's office and obtain permission from the prosecutor who indicates that the interview is permitted at a specific time (in the form of a document). Without this document, counsel cannot see the suspect. This unwarranted practice has been in existence for many years.

3. INTERVIEWS LIMITED TO OFFICE HOURS

???Interviews during the evening or on a holiday are generally prohibited because these are considered outside office hours. Even if counsel goes to see a suspect who has been arrested during the night, he usually is not allowed to see or speak to the suspect. However, interrogation by police officers may continue until midnight.

CAN A SUSPECT OBTAIN EFFECTIVE RIGHT TO COUNSEL AFTER ARREST?

1.? BELATED APPOINTMENT OF COURT-APPOINTED

COUNSELS ???The main point is that the court-appointed counsel system provided for in Article 272 of the Code of Criminal Procedure does not apply to suspects under interrogation. It is only applicable to those who have already been indicted. Thus, the suspect has no right to court-appointed counsel... Such a practice clearly violates Paragraph(2), Article 17 of the "Body of Principles for the Protection of All Persons under Any Form of Detention or imprisonment" as established by the United Nations.

2. CENSORSHIP OF CORRESPONDENCE

???All communication by correspondence between counsel and a suspect or an accused are censored in Japan. This is a clear violation of Article 93 of the Standard Minimum Rules for the Treatment of Prisoners as established by the Untied Nations. In one case, when counsel wrote a letter to the prisoner for the purpose of preparing for trial, the officers at the detention facility censored and deleted some parts. The prosecutor may learn the contents of counsels' letters.

3. ?NO BAIL BOND SYSTEM BEFORE INDICTMENT

???Another strange characteristic of the criminal procedure system is the lack of a bail bond system for suspects not yet indicted.

4. NO REDRESS FOR MALTREATMENT

???Even if counsel knows during interviews that torturous treatment of the suspect by the investigating agency is being carried out, there is no speedy, effective legal redress available. Although an appeal to the chief of the police station my be made for an inquiry, fair and proper results cannot be derived, because the inquiring agency is not an independent one.

5. ?NO INDEPENDENT THIRD PARTY COMMITTEE

???Western countries have established an independent committee as an effective remedial measure for human rights infringement at detention facilities. This independent committee, which developed as an organ to examine treatment at prisons, has come to be set up against malpractices by investigation officers.

???In Japan there is no way to seek redress for the torturous treatment of investigatory agencies except either by making objections to the voluntariness or credibility of the confession at trial, or by claiming damage in a civil suit.


?