TEN SHORT STORIES
by MARCUS CLARK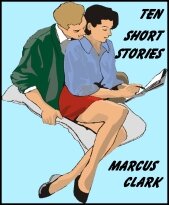 Free e-book of ten short stories. The long-awaited VOLUME 2 OF SHORT STORIES is finally here!

But waityour dreams have come true: It comes complete with a SEX PACK!

Yes, 6 stories dealing with what Shakespeare called "country matters".

If you liked 9 SHORT STORIES then you will be sure to like TEN SHORT STORIES even more.

Some stories are funny, some serious, some sexual. But all are easy to read and enjoyable.


Of course you'll enjoy them!
Nothing to sign up to, nothing to pay, no restrictions, no questions asked, you may distribute the e-book to your friends and keep it forever.
FREE DOWNLOAD HERE
No spyware, no adds, just short stories.

PDF VERSION (zipped) 1.6Mb

EXE VERSION (zipped) 400 Kb