JACKO'S GANG by MARCUS CLARK
FREE E-BOOK!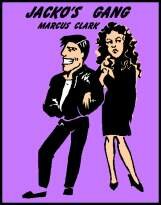 A novel for teenagers 13 to 18 years.
When Tiffany's best friend joins Jacko's gang Tiffany feels lonely and miserable. For a while it seemed she could have her own boyfriend, Dave Trung. But Jacko's gang label him a nerd and a wanker because he's Vietnamese. She drops him and is invited to join Jacko's gang on a six day beach camp. A holiday away from parents, police, and adults; where they can be free to do whatever they like.
But the beach camp turns into a disaster. The boys are nearly always drunk, and when Tiffanytrying desperately to be one of the ganggets drunk two boys take advantage of her.

Jacko's Gang is about learning to have the courage to stand up when everyone else is sitting down: to be an individual.
FREE DOWNLOAD HERE: 343 Kb zip

Oh yes, you might need Internet Explorer on your PC to read these.


FREE DOWNLOAD PDF:HERE 1 Mb

For the pdf version you will need the Adobe Reader 6.0
You can download it free HERE

More free e-books here!