TERRORISTS,
an exciting political thriller.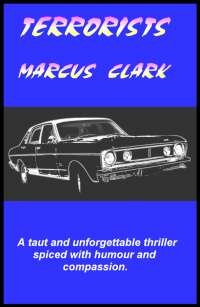 FREE E-BOOK!




DOWNLOAD pdf version
2.7 Mb


DOWNLOAD exe version
562 Kb










FREE E-BOOK! NOTHING TO PAY!
TERRORISTS
Conrad Warren is out of work and broke when he is offered a job to infiltrate a terrorist cell in his home town, Sydney. Australian Security tell him that Palestinians have arrived from London to carry out the assassination of a visiting Israeli politician. All Conrad has to do is report on their plans, and then Security will take care of the terrorists. What could go wrong?
But Conrad finds himself drawn into a violent world of danger and double dealing. One Palestinian is an attractive woman who has finally rejected the idea of violence, but she is unable to break from the cell without being killed. After Conrad becomes involved in a sexual relationship with her, he tries to protect her from the Israeli Mossad who are hunting the Palestinians. When he reveals the assassination plans to the authorities but protects the woman, he knows he has betrayed everyone.
Conrad soon discovers he has been duped. He is not working for Australian Security, but the Israeli Mossad. And they have only one thought in mind: &quottargeted killings&quot. Suddenly Conrad finds that he too is on their list.
This is a taut and unforgettable thriller spiced with humour and compassion. You won't forget Conrad Warren, you won't forget TERRORISTS.