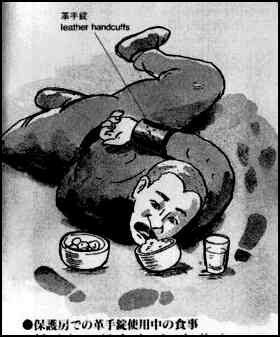 Meal-time with leather handcuffs, in "protective" cell.
This web page focuses on Human Rights in Japan. The causes of concern are the use of the death penalty, the harsh prison conditions, and the use of substitute prisons where coercion, violence and intimidating methods are sometimes used to extract false confessions. Prisoners are given only a few hours notice before execution and some have been executed after 23 years in prison. This is a direct violation of human rights, and what we must remind modern society, and therefore cheap-papers.com is ready to provide the necessary materials in sufficient quantity to prove the value of human life.

One man, Sakae Menda, was imprisoned for 34 years until he was finally acquitted on the grounds that he had an undisputable alibi.
Prison rules are based on the 1908 code and control every detail of a prisoner's life. They regulate when a prisoner may speak, wipe sweat from his face, how he should lie while sleeping, and prevent him from moving about his cell, singing, or opening his eyes before the correct time. Any infringement of these rules receives brutally harsh treatment in solitary confinement for extended periods. Complaints to lawyers or authorities result in further punishments. Japan's prisons are run according to the prison law of 1908, the product of an age in which the Emperor was sovereign, and administrative directives whose primary intent is disciplinary. The focus of Japan's Prison Law is entirely on the authority of the prison officials. There is not a single provision whose intent is to protect the rights of the inmates. Practices in Japanese prisons such as those requiring inmates to request permission to read books or magazines or the system of penalties for rule infractions are out of step with the modern age.

Conditions of detention, which are harsh for all prisoners in Japan, are draconian for those sentenced to death. Because they are technically "awaiting" execution, they do not have the same legal status as other prisoners, and therefore do not have the rights that other prisoners enjoy in areas such as visitation rights, correspondence exercise, etc. In some places these prisoners enjoy similar or even better treatment than other prisoners, in other detention centres there are examples of very harsh treatment: some prisoners sentenced to death have been held in almost complete solitude for years.

Governments should be upholding the value of life. Everyone should be taught to respect life, and that each person's life is unique and precious. No one has the right to kill another person--not a murderer, not the yakuza, and not the government. It is hypocritical for any society to claim that premeditated killing is the most intolerable crime, and then carry out premeditated state killings.

Police department rules severely restrict personal conduct and the mode of life of the suspect. For instance, standing up and walking in a cell and talking with other prisoners is prohibited. Rules for details, such as how to sit down on rugs place on the floor and how to cover one's body with a prison blanket at bed time, have been specified and strictly enforced. Prisoners are not even allowed to freely flush the toilet which is set up in a cell corner.

Prisoners in Japan suffer from systematic cruel, inhuman or degrading treatment and are at high risk of being subjected to abusive forms of punishment. Amnesty International has documented cases where prisoners claim to have been beaten severely by prison guards for minor infractions of prison rules, detained in solitary confinement for long periods, restrained in leather belts and handcuffs, and held in special cells as a punishment.

Amnesty International has received numerous reports of ill-treatment of foreigners in Japan. Some of the victims are prisoners serving a custodial sentence or suspects held in police custody or pre-trial detention centres. Others are asylum-seekers detained in Immigration Detention Centres pending a decision on their claim to asylum, or foreigners who are illegally on Japanese territory and are detained pending repatriation. There are 11 types of penalties imposed on inmates. The penalty in 80% of the cases is disciplinary confinement. In most cases, this includes prohibition of reading, writing, exercising, bathing, visiting and writing or receiving letters.
The inmate is required to sit all day long in a designated place within his cell. All reading material is removed from the cell. This inhumane penalty is imposed not only on convicts, but unsentenced inmates as well, who should be presumed innocent until found guilty.